Arias, Ensembles, & Choruses: An Excerpt Finder for Orchestras
AEC is a proud member of Rowman & Littlefield's 'Music Finder'
series, modeled after David Daniels' Orchestral Music: A Handbook.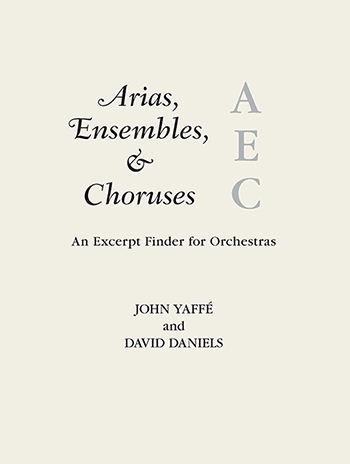 In AEC, conductors John Yaffé and David Daniels have created a one-stop sourcebook for orchestras, opera companies, conductors, and librarians programming vocal excerpts (solos, ensembles, choruses, etc.) for concert performance. In this book, one finds detailed information on a vast repertoire of vocal excerpts commonly extracted from operas, operettas, musicals and oratorios - more than 1,750 excerpts from 450 parent works. Information includes basic historical details about the parent work as well as extract titles, subtitles, voice types, keys, durations, locations in the original work (with page numbers in both full scores and piano-vocal scores), and exact instrumentation. One especially valuable aspect of AEC is the listing of "Sources," the publishers that make available the orchestral materials for just the excerpt being programmed (independent of the full parent work).
Conductors and orchestra librarians have, traditionally, had to first leaf through full scores, searching for one elusive three-minute aria after another, then consult multiple publishers' catalogues to compile crucial, and decisive, information on all the excerpts proposed for a concert or recording. In AEC, Yaffé and Daniels provide a single source in which to find that information. In many cases, the individual entries also include valuable "insider information" on common performance practice, including start- and stop-points, transpositions, and conventional cuts. Searching for repertoire is made easy with the detailed "Title Index" as well as appendices devoted to ensemble excerpts, categorized by personnel (e.g., duets, trios, quartets, quintets, sextets, choruses) and by language (Czech, English, French, German, Italian, Latin, Russian).
This book is the ideal tool for the working conductor and orchestra librarian, as well as music program directors at colleges and conservatories, opera companies, and symphony orchestras.
Make an inquiry
To make an inquiry regarding vocal excerpt materials, click the button below to make an order